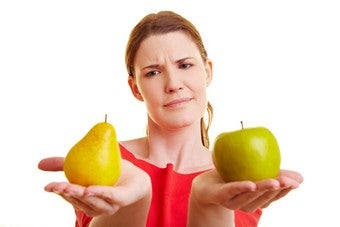 Now that Obesity Crisis stories are getting old, the new flavor of the month year is the piece exposing the dangers of a certain body type — lately, a thick waist. But this body-shape hysteria is pretty pointless.
In the latest example, Deanna Sletten of the Minnesota Heart Health Examiner writes of a recent study conducted on over 100,000 people over the age of 50. Writes Sletten,
The researchers found that of the participants who died, women who had a waist size of 42 inches or larger and men with a waist size of 47 inches or larger were twice as likely to die as the participants with a smaller waist size. Waist size, especially in women, was associated with death no matter if the participant was normal weight, overweight or obese.
Over the past few years, coverage of weight and health has shifted slightly from generally decrying all fat as killer (though there's still plenty of that around) to separating human adipose tissue into good fat and bad fat. Fat on the belly: generally considered bad. Fat on the thighs or ass, though, could be okay — at least until the scientific pendulum shifts again. All this actually resembles the debate over fat in food — in the eighties and early nineties, it was all verboten. Then we learned about saturated, unsaturated, trans, and omega-3, and now it's just confusing.