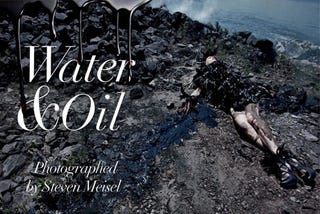 You know what's artistically inspiring? The worst environmental disaster in US history, that's what. If you're Steven Meisel, shooting for Vogue Italia, that is. Um, what?
Kristen McMenamy stars in the dark, moody spread, and feathers and nets evoke animal life in peril. As Fast Company's Tyler Gray asks, "Who does this make you loathe more, BP or the fashion industry?"
Italian Vogue has a long history of stirring up controversy (and publicity) by weaving fashion shoots with social commentary: Topics like rehab and war become set pieces for designer heels and runway-ready makeup.