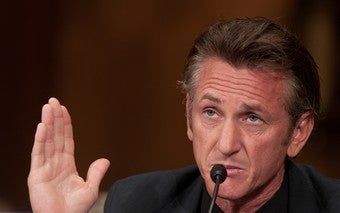 Many Haitians seem thrilled that Wyclef Jean is officially running for President of Haiti. But never mind that — what does Sean Penn think?
Short answer: he does not like it at all! According to PopEater, he does not like Jean's fancy cars:
I want to see someone who's really, really willing to sacrifice for their country, and not just someone who I personally saw with vulgar entourage of vehicles that demonstrated a wealth in Haiti that, in context, I felt was a very obscene demonstration.
He thinks Jean could be in the pocket of corporate interests:
I see in Wyclef Jean somebody who could well have been influenced by the promise of support of companies. I think Haiti is clearly vulnerable ... There is a history of American interests coming in and underpaying people.
And he has not seen Jean around enough:
This is somebody who's going to receive an enormous amount of support from the United States, and I have to say I'm very suspicious of it, simply because he, as an ambassador at large, has been virtually silent. For those of us in Haiti, he has been a non-presence.
True, Jean left the country when he was nine, but he is, in fact, Haitian. And while Penn has reportedly "been active in a Haiti survivor camp since the spring," that hardly makes him "those of us in Haiti." There are legitimate concerns about Jean's candidacy — as the Guardian notes, the most troubling of these is the allegation that he funneled donations to his Yele Haiti charity into his own business ventures. But frankly, there's something a little creepy about a white celebrity criticizing a black celebrity for being "vulgar" and ostentatious. And American actor Sean Penn is hardly the person to complain about "American interests coming in" to Haiti, or about famous people getting involved in politics.