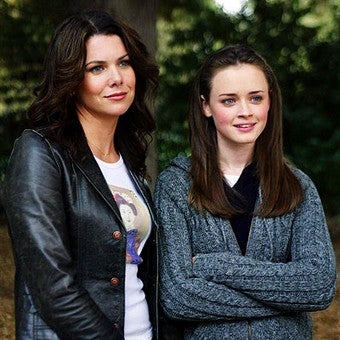 When I first realized I was turning into my mom, I was at the Gay Pride Parade.
Actually, the parade had just concluded, and a friend and I were trying to piece our way through its aftermath to get to a dinner party. A lot of streets were blocked off, the Village was understandably crowded, we were late, and we were lost. My friend tried to explain to me that since we were heading in the right direction, we were going to be okay. "We just went in a circle," I snapped, "How is that okay?" At which point I had a terrible sense of deja vu.
My mom had said these words to me circa 2002, when we were lost trying to get to my grandparents' house. Actually, I think her exact phrasing was, "You always say it's going to be okay, but it's not going to be okay!" (I guess it's not necessary to mention that it was, in fact, eventually okay.) At the time I didn't really get what the problem was, because as a college freshman, I pretty much didn't have to get anywhere on time except for class, which I didn't attend with much regularity anyway. If I got lost, I just wandered around until I figured it out. But, I realized at the parade, now that I have places to be (sort of, it's not like my presence at the party was a matter of national security), being lost totally freaks me out. I've turned into my mom.
And I'm not alone. Mia Fontaine, co-author (with her mom) of Come Back: A Mother and Daughter's Journey Through Hell and Back and of an upcoming book on mothers and daughters, says she sees her mom's health concerns (she used to carry a special scanner around the house to measure electromagnetic radiation) mirrored in her own worries over the ingredients in cosmetics. And Katherine Rosman, author of If You Knew Suzy: A Mother, A Daughter, A Reporter's Notebook, says,