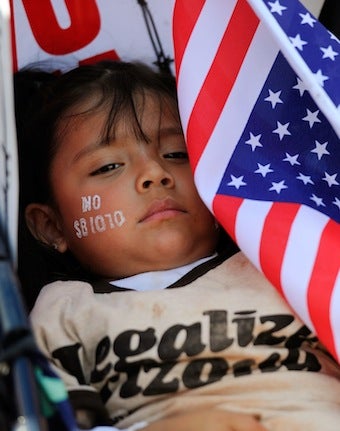 "We need to target the mother. Call it sexist, but that's the way nature made it. Men don't drop anchor babies, illegal alien mothers do." That statement was being pushed by the author of Arizona's immigration law. He's not alone.
The neat distillation of current anti-immigrant thinking was in an email spread around by State Senator Russell Pearce, and cited by The Nation's Robin Templeton in a report on the recently revived, anti-immigrant rhetoric on birthright citizenship — the part of the Fourteenth Amendment that stipulates that babies born on American soil are automatically granted citizenship. (Sorry, what was that about upholding the constitution?) Here are some other examples of the blatantly sexist and xenophobic obsessions with Latina women's fertility:
"It's invasion by birth canal," the leader of a California anti-immigrant ballot initiative told the Los Angeles Times. The head of an anti-immigrant group in Virginia called for an investigation into "whether or not illegal aliens have a preferred breeding season." According to Texas Republican Representative Ron Paul, "awarding automatic citizenship to children born here minutes after their mothers illegally cross the border" is "a matter of national security."
But it's not just marginal voices. Manifestly unconstitutional legislation trying to withhold citizenship to the children of the undocumented is being discussed in Arizona, California, Oklahoma, Texas, Utah and Congress, per The Nation. Yesterday, Senate Minority Leader Mitch McConnell said Congress should be taking a hard look at the Fourteenth Amendment. And last week, formerly "moderate" Senator Lindsey Graham said on Fox News, "We should change our Constitution and say if you come here illegally and you have a child, that child's automatically not a citizen. They come here to drop a child — it's called 'drop and leave.' ... That attracts people here for all the wrong reasons."
The persistence of the word "drop" is intentionally dehumanizing, and hints that Latina women are malicious breeding machines. The same impulse led to the leaking of the private details, including due dates of pregnant women, of allegedly illegal immigrants in Utah.