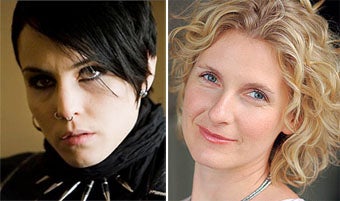 When a genuine cultural phenomenon emerges for the most part through word-of-mouth, the boom can be bewildering to those who aren't immediately swept up. My first adult experience of this, aside from the rush towards Brazilians, was Eat, Pray, Love.
It was unavoidable on public transport. People led with it at parties. Sometimes, someone would put a hand on my arm, as if about to utter a caring bit of insight. No. "Have you read Eat, Pray, Love?"
Finally, a friend got it into my hands just before I boarded a train for three hours. I felt mildly assaulted by Gilbert's rhapsodic flights of self-examination, but not particularly worse for the wear. Who was I to talk? I was off for three months of pre-funded gadding about myself. Arranging gadding about can be kind of a pain. Of course, millions of people with jobs and families preferred the vicarious rewards of someone else's semi-edited, insight-rich journey.
Until Lisbeth Sander popped onto the scene, and I began to wonder why these two ladies were wholly ruling stage and screen.
Alternately enthused and agonized, Gilbert - soon, in the person of Julia Roberts - importunes the citizens of the world to provide her with life's meaning. Sullen and socially allergic, Salander has been told through various social agencies exactly who she is through her entire adolescent life. Secretly accessing secret lives of friends and enemies through the comfort of a remote server, she does know everything-except what lies in her-ach!-hard drive of a heart.
Like with EPL, I first turned to the The Girl with the Dragon Tattoo and Millenium series through assignment. (Er, this one.) I'd been sent it 17 times, and it had struck me as the kind of frothy mystery I generally had completely no time to read. I was thinking it was a charming urban mystery, a la Westing Game-meets-Basil E. Frankweiler for the old folks. I was thinking screwball. I was thinking mystical. I think - forgive me, associative 80s-brain - I was kind of thinking The Golden Child.
Well. Stieg Larsson! Shut my mouth.