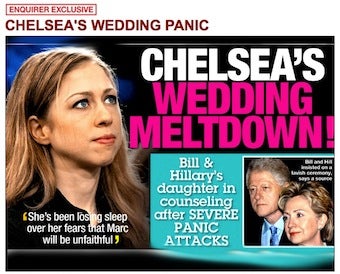 When does Bill Clinton approvingly cite George W. Bush? When he's talking about doing the "hand-off" at your daughter's wedding being proof "you've done what you're supposed to do." As Rebecca Traister points out, perhaps he should reconsider.
Traister nails what is somewhat distasteful about the media hubbub around Chelsea Clinton's wedding. It's not just that she has never chosen to make her personal life public. It's also the fairy tale narrative — part Ugly Duckling, all Disney princess — that presents a wedding as the "apotheosis of the human, the romantic or, more pointedly, the female experience," and Chelsea's in particular as her happy ending.
Yes, lots of people are genuinely happy for Chelsea, because they feel they watched her grow up. And everyone loves party gossip — who's invited, who isn't, what she'll be wearing.