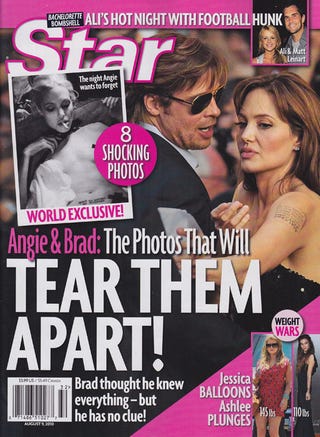 Welcome to Midweek Madness! In today's tabloids, we see nude photos of Ms. Jolie, learn Katie Holmes is pregnant again, and discover Lindsay Lohan's a "crybaby" who's figured out a way to cut herself while deprived of sharp objects.
OK!
IT'S WAR OVER SCOTT!
Someone at OK! has been forced to write the novelization of the "explosive" Kourtney and Khloe Take Miami finale:
"Cowering with Kourtney and baby Mason inside a locked bedroom while a blood-covered Scott rampages through the girls' apartment in an alcohol-fueled rage, leaving shattered glass in his wake, Kim finally snaps. "He's crazy," she pleads to her sister. "I don't get why you always forgive him."
With shaking hands, Kourtney lights a cigarette to soothe her jangled nerves, unwittingly triggering an explosion caused by a faulty gas line, and ending the Kardashians forever. Or something like that. I couldn't finish the article. Next: Megan Fox just got married, so naturally we must assume that she's trying to get pregnant by the end of the year. This week's hot playground gossip: Suri Cruise and the kid who plays Caroline Kennedy in Katie Holmes' new movie are BFFs. "They're definitely bonding — holding hands, playing tag, and doing cartwheels," reports a source. Jennifer Lopez has lost 15 pounds, and "it's not some trendy diet that did the trick." She's doing acupuncture! Sandra Bullock's "been having a good time chatting with her girlfriends about who she could potentially go out with," says an insider. "She's drawn up a list of guys she has a crush on." But it's all a waste of time, since the mag has already made a chart to determine who's her "perfect match." (Image 7) She'll date who OK! says and like it. As always, OK!'s gossip fails, but there's a pull-out Bad Girls Club poster inside (image 8) which makes this mag a steal at $3.99.