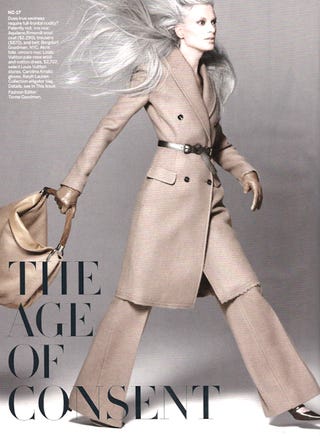 All of a sudden, it's everywhere. How did gray hair become a "thing"?
Some background:
1775: Fashionable young women powdered their hair so that it would appear to be gray.
1931: Jean Harlow's strands were white-hot in Frank Capra's Platinum Blonde.
1978: Blondie's song, "Heart Of Glass," hits number one on US charts.
1987: Andy Warhol dies.
April 1999: After spending the previous summer with blue hair, Gwen Stefani opts for pale, almost gray blonde.
2000: Angelina Jolie rocks platinum dreadlocks in Gone In Sixty Seconds.
2002: Pink, whose hair had been bright pink, changes to grayish silver.
Here's where the current trend really takes hold.

Fall 2007- Fall 2008: Agyness Deyn becomes a hot property on fashion runways. Her short coif ranges between sunny yellow and pale platinum. At left, an image from September 2008, in which Deyn sports cropped silvery blonde.
In October 2008, Deyn and her hair are showcased in Paris Vogue.