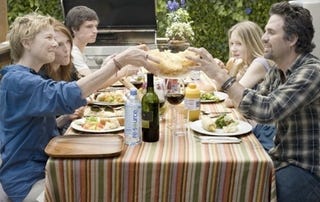 Critics say The Kids Are All Right, starring Julianne Moore and Annette Bening as lesbian moms, is a rare gem: "A comedy that doesn't take cheap shots, a drama that doesn't manipulate, a movie of ideas that doesn't preach."
Bening and Moore play Nic and Jules, a married couple living in Southern California with thier two teenagers. When Joni (Alice in Wonderland's Mia Wasikowska) turns 18, her younger brother Laser (Josh Hutcherson) urges her to call the sperm bank that supplied their moms with genetic material to find out who their biological dad is. The kids make contact with Paul (Mark Ruffalo), the owner of an organic restaurant, and he slowly becomes integrated into their family life.
While the film, which opens today, centers around a gay marriage (and certain plot elements have angered some lesbians), it's designed to be a realistic portrait of family life that appeals to mainstream viewers, not a polemic on gay rights. Reviewers particularly praised director/screenwriter Lisa Cholodenko's dialogue, and "ear for the way therapeutic catchphrases and hazy insights recalled from college reading lists filter into everyday conversation" (though The New Yorker complained about this "extra-planetary prattling" in the lone negative review). The leads' performances are also excellent: Bening "gives an Oscar-caliber performance," Moore "plays every note perfectly," Ruffalo gives one of his best performances, and the kids are "refreshingly real." Overall, it "leaves you feeling wistful for at least three reasons: because of what happens in the story, because the movie's over, and because there aren't more of them this good."