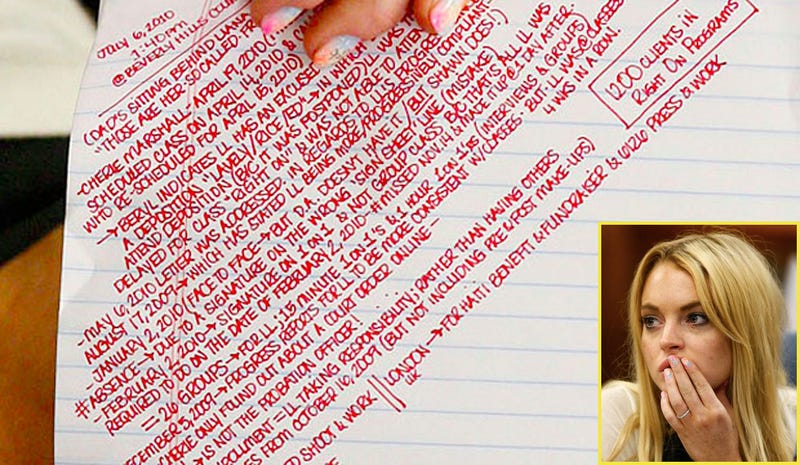 During her court hearing earlier this week, Lindsay Lohan was seen writing neat, detailed notes with a red pen. When she used the piece of paper to cover her face, photographers snapped a hi-res image.
(Click image to enlarge)
Below is a word-for-word transcription; elipses indicate where visible text ends. Given the high-level of detail in her notes, we can assume the text continues in her perfect handwriting.
JULY 6, 2010
1:40 pm
@BEVERLY HILLS COUR...
____________________________
DAD'S SITTING BEHIND LIANA
"THOSE ARE HER BULLET SOCALLED BULLET FR...
-CHERIE MARSHALL - APRIL 19, 2010 (...
SCHEDULED CLASS ON APRIL 14, 2010 & C....
WHO RE-SCHEDULED FOR APRIL 15, 2010)
—-> BERYL INDICATES LL HAS AN EXCUSED...
A DEPOSITION "LAVELY/RICE/ED" —-> IN WHICH...
ATTEND DEPOSITION (B/C IT WAS POSTPONED) LL WAS TH...
DELAYED FOR CLASS "RIGHT ON" & WAS NOT ABLE TO ATTEND...
- MAY 6, 2010 LETTER WAS ADDRESSED. IN REGARDS TO LL'S PROGRESS...
AUGUST 17, 2009 —-> WHICH HAS STATED LL BEING MORE/PROGRESSIVELY COMPLIANT-...
- JANUARY 2, 2010 (FACE TO FACE —> BUT D.A. DOESN'T HAVE IT / BUT SHAWN DOES!)
# ABSENCE —-> DUE TO A SIGNATURE ON THE WRONG 'SIGN SHEET' LINE (MISTAKE)
- FEBRUARY 2010 —-> SIGNATURE ON 1 ON 1 & NOT GROUP CLASS BC THAT'S ALL LL WAS...
REQUIRED TO DO ON THE DATE OF FEBRUARY 2, 2010 - # MISSED NOV. 14 & MADE IT UP @ 1 DAY AFTER.
= 26 GROUPS —-> FOR LL; 15 MINUTE 1 ON 1'S 7 1 HOUR 1 ON 1'S (INTERVIEWS & GROUPS)
DECEMBER 5, 2009 —-> PROGRESS REPORTS FOR LL TO BE MORE CONSISTENT W/ CLASSES. BUT LL WAS @ CLASSES 4 WKS IN A ROW.
CHERIE ONLY FOUND OUT ABOUT A COURT ORDER ONLINE —
—->IS NOT THE PROBATION OFFICER!
ENROLLMENT + LL TAKING RESPONSIBILITY RATHER THAN HAVING OTHERS
...ES FROM OCTOBER 16, 2009 (BUT NOT INCLUDING PRE & POST MAKE-UPS)
...D SHOOT & WORK || LONDON UK —-> FOR HAITI BENEFIT & FUNDRAISER & 6126 PRESS & WORK
[side note]
1200 CLIENTS IN
RIGHT ON PROGRAMS
Lindsay Lohan's Revealing Tweets, Courtroom Notes [OMG!]
Earlier: Lohan's Path to Redemption Is Already Being Paved
Lohan Discusses "Inhuman" Sentencing, Nail Design
Lindsay Lohan Sentenced To Jail, Rehab