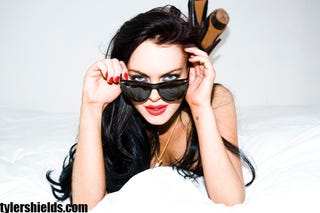 With a sentence to serve 90 days in jail, probation until 2011 — in addition to intense scrutiny, tons of jokes, tabloid drama and talking head hand-wringing — Lindsay Lohan stands at a crossroads.
But Lindsay could be about to take the first step in pulling herself together. As Women & Hollywood's Melissa Silverstein writes, "maybe, just maybe this will save her life."
The rumors of her tampering with her SCRAM device or secretly drugging do not appear to be true; as the AP reports, all of her recent drug and alcohol tests were clean. But judges don't like it when you don't show up for court hearings — violation of probation is a crime. The upside is that being in a jail cell could give Lindsay a chance to breathe, think, reassess and plot. Time out of the public eye is a good thing; right now the world is watching Lindsay's every move, and the pressure has got to be overwhelming.
But is Lindsay a "trainwreck" whose career is over? Absolutely not. As said before, she's had a rough time figuring things out — much like 90% of people in their 20s. And most of those people do not live in the Hollywood fishbowl, surrounded by bad influences and ill-equipped parents.