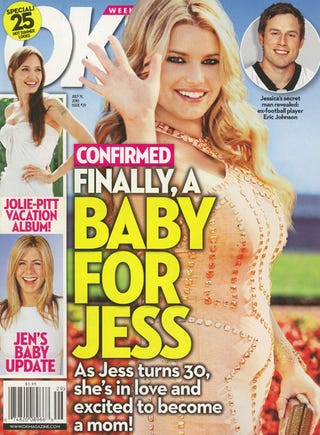 Welcome back to Midweek Madness! Today in the celebrity weeklies, Angelina "storms out" on Brad in a shocking reversal, a Real Housewives mystery is solved, and we check in on the uteri of half the ladies in Hollywood.
OK!
FINALLY, A BABY FOR JESS
Jessica Simpson, who turns 30 this weekend, is a pathetic excuse for a woman because she spent her 20s dating and concentrating on her career rather than finding a husband and pumping out babies. However, judging from her "fuller-figured look" that's about to change. Though Dr. Edward Jackowski "hasn't personally treated Jess," he's confirming that she's pregnant because she's sporting a "newly formed paunch in her lower tummy region and a more-than-usual rounded nose and face," which are "typical of a woman in her 10th to 12th week of pregnancy." OK! suggests the daddy is her new beau Eric Johnson, but let's hope for Jess' sake that his math is as bad as the mag's: They've only been dating for five weeks. Things are also looking up for Jennifer Aniston's tragically empty womb; Chris Gartin, some dude she was spotted eating dinner with last week, is a recently-divorced father of two and "a natural dad," according to an insider. In another story, Unsolicited Uterus Update Weekly reveals that Carrie Underwood is "ready to give new husband Mike Fisher the ultimate wedding gift: a baby." They're allegedly planning to start trying to get pregnant on their honeymoon. Thankfully, this issue ends with a palate-cleansing article on Glee stars (and real-life BFFs) Naya Rivera and Heather Morris. Santana and Brittany interview each other about what makes each an awesome best friend, yielding some super-cute shit like, "You have the funniest laugh in the whole world," and "We went and saw a movie a few days ago and you made me laugh so hard I had tears in my eyes." The only thing that could make them more adorable is having a babies attached to their hips!
Grade: F (Peeing on OK! to determine whether you're pregnant or not.)
Us
JESSICA'S MARRIED MAN
Though various sources describe ex-NFL player Eric Johnson as a "hardworking" guy who makes Jessica "really happy," he's definitely an asshole. Consider this evidence: 1) He filed for divorce in January, but it still hasn't been finalized (though he and his ex are on good terms). 2) He took Jessica home for a family reunion, and meeting his folks for the first time was totally "awkward." 3) Though he knocked her up five weeks before meeting her (says OK!), he now encouraging her to crash diet. 4) Jessica is inherently incapable of having a happy, stable relationship (according to the tabs, at least). In other news, Bachelorette Jillian Harris and Ed Swiderski are taking a break, and she reportedly told a friend, "I'm fucking done." Between this and the Jake-Vienna breakup, we're starting to lose our faith in disgustingly fake reality-TV romances.
Grade: F (Tabloid editors develop ability to will stars pregnant.)
In Touch
BABY NO. 2 ON THE WAY!
Can you spot the logic fail?
With his hard partying, womanizing and downright embarassing behavior, it's nearly impossible to understand why Kourtney Kardashian is still putting up with Scott Disick. But according to an insider, Kourtney's stuck with him, and for at least one very good reason: She wants to have another baby with him very soon.
In other Kardashians news, Kim's new relationship with Miles Austin is a "risky rebound" because he's a "notorious ladies' man" and "she's introducing a man who is not used to reality TV to a world of instant fame and even more women wanting to be with him." Next: In a shocking twist of events, "Angelina Storms Out." How will Brad function now that Angelina's hijacked his only method of transportation? As you'll recall, Brad recently convinced Angie to reunite with her dad, but last week he refused to vacation with Jon Voight and the rest of the fam in Cancun. The reason: Voight wrote something mean about Barack Obama in the Washington Post and Brad has the emotional maturity of a six-year-old. In Touch asks: "Boob job or bra? But the editors answer their own question, claiming Kate Bosworth, Rihanna, and AnnaLynne McCord all went under the knife, while Miley's "bigger boobs can be attributed to her body changing as she matures." Almost like a real, live teenage girl! (image 7) In other news, In Touch claims Vienna Girardi hooked up with Glee's Mark Salling at a hotel in Las Vegas, but we refuse to believe he'd cheat on Santana. "Bronde" is the new blond: Adjust accordingly (image 8). Renee Zellweger is "addicted to exercise" because she works out a lot and her "diet consists almost entirely of tuna, chicken and veggies." We're pretty sure the tabloids have been recommending this diet and exercise regimen for years, but now they say it's a one-way ticket to "exercise bulimia." In a related story, In Touch congratulates Perez Hilton for losing 61 pounds by exercising every day and having his meals delivered. He says in an "exclusive" interview: