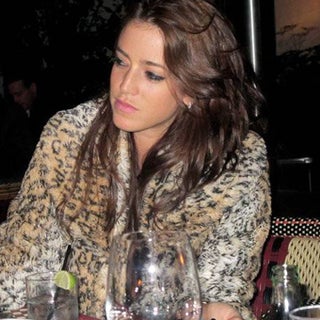 S
The gossip over the holiday weekend was that Lindsay Lohan's now dating Israeli military vet Eilat Anschel. Lindsay has denied the rumor via Twitter (per usual), but this time we believe her, since she pointed toward Eilat's girlfriend as proof.


Today on Twitter, Lindsay posted that Eilat is just one of her best friends: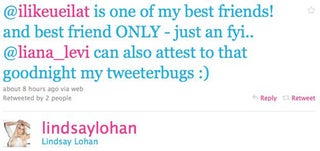 S



Lindsay linked to the (locked) Twitter account of a woman named Liana as someone who can "attest to that." And tweets on Eilat's account indicate that Liana is most likely her girlfriend, or at least was recently.


S

S



Although it would appear that Eilat is close to the Lohan family:


S



And the one truth to the rumor of Eilat's relationship with Lindsay is that she does, in fact, seem like she's Lindsay's "shoulder to cry on":


S



Although, Eilat—who has been spotted on the L.A. club scene with Lindsay lately—is supposed to be consoling the troubled starlet in regards to her SCRAM device, she might not be the best sober sister around:


S
Image via Facebook.