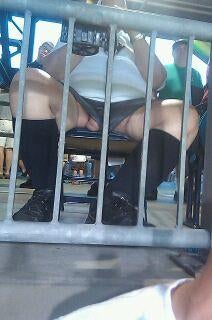 [Pittsburgh, July 3, Not Getty and NSFW]
Oh, now, calm down. I've seen plenty of nudity on this site before. This image is a perfect segue to bring up an issue that we, as men, often have to deal with when we're subjected to oppressive humidity. (Okay, not often.) But it is a problem. For this gentleman, at least. What, your boyfriend's ballsack doesn't ever tumble out when he wears baggy shorts? No? Well, he's lying. Possibly.
And, unlike you, he can't get glittery stars glued on his man-parts to make them look more fancy. Scro-jazzling? Somebody get on that.