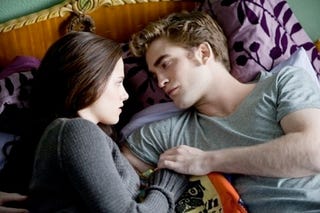 The reviews are in for Twilight: Eclipse, which opens today, and critics are declaring it the best film of the series. But that may be faint praise, considering that they generally hated the previous installments.
Plotwise, you know the drill: It's the classic girl/vampire/werewolf love triangle. This time Bella (Kristen Stewart) decides she wants to take her relationship with the sexy vampire Edward (Robert Pattinson) to the next level, as in actually having sex, rather than just looking at each other longingly for 124 minutes. But Edward's not into sex before marriage, because this series is aimed at teen girls who mustn't be corrupted by illicit inter-species boning. Also complicating matters: Jacob (Taylor Lautner), a similarly sexy werewolf, who also wants to get in Bella's pants. Bella is being pursued by evil vampires (again), which necessitates hiding out in a tent with her two suitors. Awkward!
Reviewers say thanks to director David Slade, the film "neatly balances the teenage operatic passions from Stephenie Meyer's novels with the movies' supernatural trappings." Stewart and Pattinson are "allowed a wider range of emotions than we've seen before" in Eclipse, but Lautner and his infamous disdain for shirts steal the show — which is a problem, since (spoiler alert) she's going to pick the SparkleVamp.
Check out the reviews below... or save $10 and read our minute-by-minute analysis.