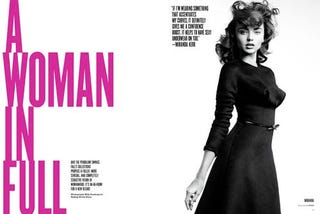 Magazines are celebrating curves! As long as they stay within the narrow size requirements.
There are straight-size models and plus-size models, and then there are the models who fit the straight-size measurements but are just a little more curvy and busty. They just aren't waif kind of straight-size, and are therefore used by magazines and labels to gain some cred for being inclusive. The straight-size-but-with-boobs models walked the Fall runways for Prada and Louis Vuitton, and Prada's influence is so vast that you could credit the brand for the industry's obsession with blonde, doe-eyed waifs in the Sasha Pivovarova mold. But why isn't the influence holding any power now, and here in the U.S.?
Since the Fall shows ended, European publications such as French Elle and Italian Vanity Fair have cast in editorials plus-size Amy Lemons and Crystal Renn, respectively. But when American magazines talk about "plus-size" women, the publications benefit more than the actual plus-size models themselves. They can throw around words and headlines that make them look inclusive, but when it comes down to who they actually choose to feature and the images they present, the plus-size models aren't getting work; the "bigger" straight-size ones are. American Vogue wrote about straight-BUT-WITH-BOOBS Lara Stone's struggle in the industry and used straight-BUT-WITH-BOOBS Doutzen Kroes for a swimwear story, and straight-but-LOOK!-BOOBS! Miranda Kerr was featured in the recent V spread entitled "A Woman in Full."