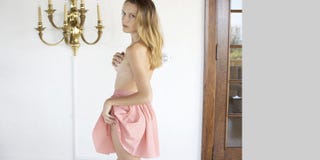 Somewhere in L.A. American Apparel CEO, Dov Charney, tosses his head back. His neck is damp and sweaty.
Small hairs stick to his forehead. He fantasizes about sleeping with his employees. And he laughs. And laughs and laughs.
American Apparel is built on the appeal of the risque. Controversy. Every neon thong leotard and gold lame jumpsuit is meant to provoke. To offend "mainstream" sensibilities. To attract a consumer that desires to (in some tame way) walk on the wild side by proxy.
Charney is a disgusting little man and he loves it.
He wants it that way.
Keeping this important fact in mind, let's take a closer look at their new more sophisticated, expensive and classy "New Standard" style direction. To quote an email sent by AA management regarding grooming standards and reported by Gawker last week: