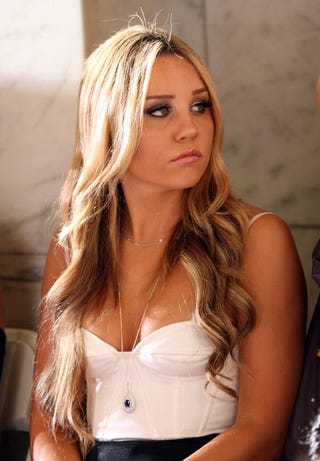 Sunday, 24-year-old Amanda Bynes quit Hollywood, Tweeting, "Being an actress isn't as fun as it may seem… you heard it here first, I've retired." FYI: Amanda's been working since age seven. Perhaps she made a wise decision?
The Daily Beast's Jacob Bernstein attempts to pin Amanda's retirement on crappy movies and "erratic behavior," writing "Hollywood had mostly broken up with her." But the road a child star follows is full of twists and turns, traps, possibilities and disappointments. And when a little girl grows up in the public eye — coming of age in Hollywood — there's no "right way" to do it.
Unlike Britney Spears — who famously sang, "I'm not a girl — not yet a woman" — Amanda Bynes didn't have a career that relied on jailbait sexuality. She went to comedy camp when she was a kid and started doing commercials when she was seven. She landed a part on Nickelodeon's All That when she was ten; and at the age of 12, Amanda became the youngest performer ever to host her own variety sketch program, The Amanda Show. She often said her favorite actress was Lucille Ball. But how do you transition from goofy kid into grown woman? Former Disney star Britney had a snake-toting "slave 4 u" phase; Disney star Miley Cyrus has been blasted for her provocative clothes and dance moves; after Disney star Christina Aguilera let the genie out of the bottle, she let everything but her labia hang out, too. Becoming a woman is tough under any circumstances, but in showbiz, it's even harder. Especially if you're female; it seems like cute and talented only gets you so far. There are notoriously crappy roles for women, and some people think women aren't as funny as men. Spring Breakdown goes straight to video; The Hangover makes millions. Drew Barrymore carved out an adult career after her numerous roles as a child (and rehab stints), but even in flicks like Never Been Kissed and 50 First Dates, her characters had a hint of innocence and adolescence — non-sexualized, "safe" for those who still thought of her as a child.