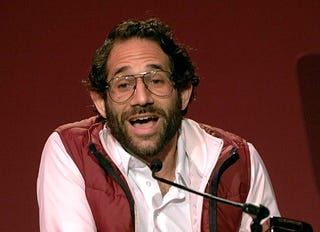 "There's no evidence that physical appearances are the predominant hiring qualification," says American Apparel C.E.O. Dov Charney. "The emails that Gawker published don't reflect the hiring concept that we're pursuing. We're trying to hire people that are trustworthy."
Neither Dov Charney nor anyone else at American Apparel has responded to our attempts to get in touch about the company's photo-based hiring decisions, and the company higher-ups' apparent habit of critiquing (and mocking) their retail drones' appearances. Nor has anyone cared to explain to us why it is, exactly, that American Apparel manufactures so much of its clothing in sizes 0-6 only. But America's sexual-harassiest C.E.O. gave a long, somewhat rambling, self-justifying interview to Y.M. Ousley at Signature9, during which these subjects were broached. It is revelatory of the extent to which Charney appears to genuinely believe his company can do no wrong:
Photographing people head to toe is the right thing to do if you want to see how people present themselves to customers. It's not for a beauty pageant like Miss America where we're looking at someone's breast size. We want to see their style.
I suppose we should have known he's more of an ass man. Then, there's this exchange:
YMO: So if they're not "90's Vogue Chic"…

DC: That was a young worker's way of describing the style.

YMO: So it's not an official policy?

DC: Trying to describe a fashion sensibility — it's difficult to put into words. Our customer is getting older, they're getting more mature. Madonna started wearing safety pins than become an elegant lady. She goes from punk to haute class, and our customer is going through that. In the same way that Levi's followed the boomers, we're following their kids.
Actually, at American Apparel, it's spelled "Chique."
In Charney's view, his company is being victimized by a vicious online hate campaign that finds fault with him for doing what many retailers do: regulate their employees' appearance at work. But according to the company's own internal documents, American Apparel's rules go well beyond those of many competing brands.
"We need to clearly see everyone's hair, color, and length. It plays a big role in how they look," warns the company's 9-point list of instructions for how to take the mandatory photographs (close-up "AND a clear, well-lit head to toe shot") of prospective recruits. (Charney repeated his vague assertion that some of the e-mails and company documents leaked to Gawker were "doctored," but, notes Ousley, Charney "couldn't recall" any specific message that he says was altered.) There are sometimes extremely specific rules about makeup, jewelry, and uniform at most jobs — but where else do we find that higher-ups have to approve an employee's pictures once again before authorizing a raise or a promotion? (Okay, Prada.)