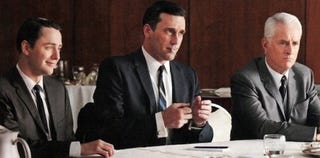 The new issue of Entertainment Weekly features the first Mad Men season four promotional picture, but don't worry about being spoiled: All we learn is Don didn't quit smoking and Roger hasn't taken to wearing caftans and hippie beads.
The photo of Don, Pete, and Roger at a restaurant, which really could be from any previous episode, appears in the June 18 issue of the magazine along with these not-particularly-revealing comments from Matthew Weiner:
The theme of the season is "Who am I?" It's about stripping away the things that these people think define them. Once they're taken away, they just may have to look at who they really are.
And:
As for Don and Betty, who was last seen flying to Reno with new lover Henry Francis (Christopher Stanley), Weiner says their failed marriage "will take the next logical form. Their relationship was full of conflict. None of it has been resolved."
Damn you Weiner! The July 25 premiere is only six weeks away and the only bit of news die-hard fans have to go on is that Jared Harris and Kiernan Shipka have been promoted to series regulars, so we'll be seeing more of Sally Draper and Lane Pryce (obviously — he's a founding member of Sterling Cooper Draper Pryce). What are fans supposed to do for the next 42 days? Keep trying to think of a good excuse for an adult woman to buy a $75 Joan Harris Barbie doll?