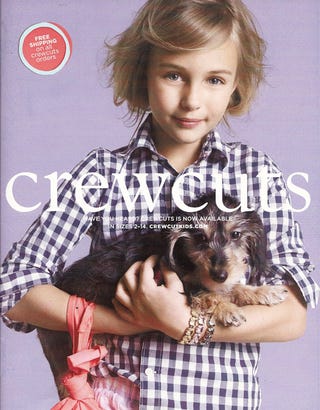 Take a deep breath and get ready for an ovary-explosion, because the folks at J. Crew's Crewcuts have cast some adorable little whippersnappers. Free shipping!
Kudos to the art direction team — construction paper is an under-utilized medium. And kudos to whomever got that little boy to wear lavender sneakers. Whether he knows it or not, they're awesome.
Three stories from my youth still tug at my heartstrings: The Wizard Of Oz, Alice In Wonderland, and Eloise. So the Yellow Brick Road is charming. But even Dorothy wouldn't recommend gingham on gingham. And she wanted to dye her eyes to match her gown.
"Auntie Em, it's a twister! I hope it takes my fugly sandals."
Hair! +Sneakers! = Awesome.
These new generations of boys with shaggy haircuts. It's like 1972 all over again. But with less polyester.