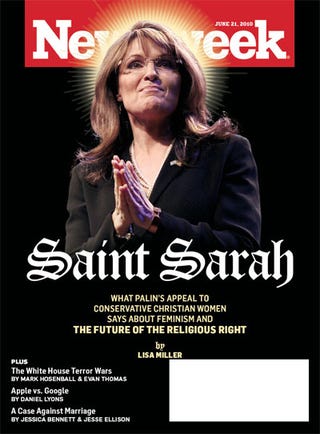 According to the cover story in the latest Newsweek, even if Sarah Palin never runs for office again, she can single-handedly change the face of politics by instructing her loyal army of "conservative feminist" mama bears how to vote. Shudder.
Writes Lisa Miller, "[H]er pro-woman rallying cry, articulated in the evangelical vernacular, together with the potent pro-life example of her own family, puts Palin in a position to reshape and reinvigorate the religious right, one of the most powerful forces in American politics. The Christian right is now poised to become a women's movement-and Sarah Palin is its earthy Jerry Falwell... With her new faith-based message, Palin gathers up the Christian women that traditional feminism has left behind."
Hoo boy. That's a lot to take in, first thing in the morning.
I already covered what I think of "Sarah Palin Feminism," but once more with feeling: Feminism did not leave conservative Christian women behind. Conservative Christian women rejected feminism. This is not a trivial distinction.