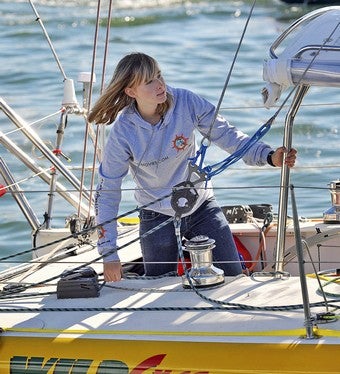 Sixteen-year-old Abby Sunderland has reportedly gone missing at sea during her attempt to be the youngest person circumnavigate the globe. Her parents are understandably worried — but many wouldn't have let her go at all.
A junior from Thousand Oaks, CA, Sunderland hoped to be the youngest person to sail around the globe by herslef. According to Pete Thomas GrindTV, 16-year-old Jessica Watson set a new record last month, but Sunderland continued her journey — and faced severe storms in the Indian Ocean last night and early this morning. ESPN reports that Sunderland last talked to her parents around 9 AM Eastern Time today, after which she lost satellite contact and turned on emergency beacons that "indicate that she is in trouble." One beacon is attached to a raft or survival suit and apparently meant for use after abandoning ship. Thomas writes, "Abby's father struggled with emotions and said he didn't know if his daughter was in a life raft or aboard the boat, or whether the boat was upside down." Sunderland is 400 miles from the nearest ship, but rescue efforts are underway.
Abby's parents have, in some ways, been through this before — last year, Abby's then-seventeen-year-old brother Zac also sailed around the world. At the time, I remember my parents saying they never would have let us do a thing like that (I can't speak for my brother, but I wouldn't have had the skills or the courage to try it). I don't have children, but I'm pretty sure I would have a complete meltdown if someone I loved tried to sail around the world alone. So where's the line between chaperoning kids at every step and allowing them to do too much, too soon?