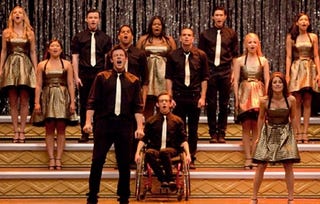 With awesome dance numbers, hastily resolved storylines, and a sketchy comment about a female character's virginity, last night's Glee finale showcased some of the show's best and worst qualities. So what does the show need to fix before season two?
Like the entire series, Glee's season finale last left me torn. New Directions' Journey medley and the "Bohemian Rhapsody" number by Vocal Adrenaline (more like Jonathan Groff and the Groffettes) lived up to a season's worth of Regionals hype. They even managed to weave in a non-cheesy birth scene. On the other hand, it seems Quinn's series-long teen pregnancy storyline was tied up by handing off the baby to a guest star we'll never see again, some favorite characters didn't even have a line, and the ending left the door open for Principal Figgins to keep threatening to disband the glee club. It's frustrating to watch a show so close to being truly great fumble week after week, but hopefully the people behind the show can work out these issues before season two:
1. More Well-Developed Plot Lines
Glee's storylines are totally inconsistent, which makes it hard to know how invested you should get in the kids' problems du jour. Though there has been a lot of criticism on the handling of Kurt's homosexuality and Artie's disability, their issues were addressed over many episodes and still aren't totally resolved. Kurt's dad accepted his homosexuality, but it's still ongoing issue. Artie stopped hoping for a miracle cure, but it's not like he made peace with not being able to walk. However, there are many other stories that didn't get the time they deserved. Shelby hatched an elaborate plot so she could forge a relationship with Rachel, then when Rachel finally reached out to her, Shelby realized she was actually only interested in having an adorable baby daughter. She tells Rachel she's quitting her job because she's thinking about starting a family, and about an hour later she learns Quinn has given birth and adopts baby Beth.