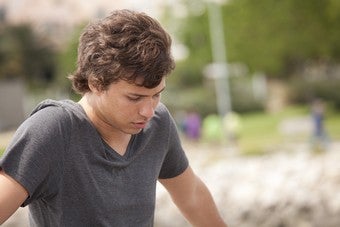 Popular stereotype would have us believe that young women are constantly obsessing over every up and down in their relationships — but one study says "romance drama" actually has a bigger effect on dudes.
Any reader of Cosmo could be forgiven for thinking that women spend all their time analyzing their boyfriends' body language, text messages, sleep style, and probably stool samples for evidence of an impending breakup or marriage proposal. But according to ScienceDaily, researchers from from Wake Forest University and Florida State University surveyed a thousand men and women between the ages of 18 and 23, and found that the men were actually more likely to suffer emotionally from relationship difficulties. Study coauthor Robin Simon explains that "for young men, their romantic partners are often their primary source of intimacy — in contrast to young women who are more likely to have close relationships with family and friends."
Young men themselves — as well as pop culture in general — often promulgate the idea that women spend all their time talking about their boyfriends, while men never mention their girlfriends to their bros. This may be partially true — but it's not because men don't care about their girlfriends or because other topics are simply more important to men than relationships (another common claim). In fact, it might be better for men to discuss their relationships more openly, getting reassurance about small problems and advice for solving larger ones (though hopefully avoiding "co-rumination").