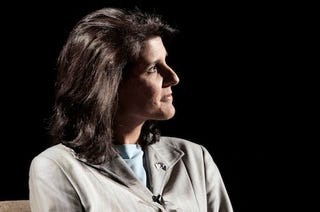 "What a night for women in politics," Tweeted Joe Scarborough. Most, though not all, were conservatives. Warning: in days ahead, you will be hearing the phrase "Mama Grizzly" more than any reasonable person can bear. A primer, after the jump.
Blanche Lincoln, Democratic Senator from Arkansas.
Lincoln prevailed in the primary in a tough year for incumbents, and despite a challenge mounted by a candidate backed by liberal groups, including labor and environmental activists. Aggressive campaigning by Bill Clinton is said to have done the trick. She's been in office since 1998, during which she's built a reputation as a moderate and as the so-called "Senator from Wal-Mart." She faces a tough general election fight. She has a mostly pro-choice record, though she did support the ban on so-called "partial-birth" abortion.
Nikki Haley, Republican nominee for South Carolina Governor.
Endorsements from Sarah Palin and former first lady Jenny Sanford helped Haley jump ahead in the polls, and last night she got 49 percent of the vote over three Republican candidates — though still not enough to avoid a run-off. She would be the first Indian-American governor of South Carolina and the second from that background in the region.
Two men said they'd had affairs with Haley, although no hard evidence ever emerged. She told The New York Times Tuesday, "We are a state of great people. We are a state of dirty politics." When they asked her about her candidacy's potential for breaking historical barriers, she said, "These stereotypes of South Carolina are very different from what South Carolina actually is. If I win, I want it to be historic in the nature that South Carolina is moving forward for reform." She's anti-choice, and has cited the fact that her husband was adopted.