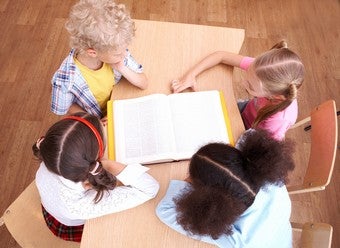 The latest battle in the so-called war on boys is the public-school gifted program — at least in New York, now "overstocked with girls." But the real problem with gender inequality in schools may be how we talk about it.
Last week the Times reported that this year's class of gifted kindergartners in New York City is 56% girls. Which prompted New York's Hanna Rosin to ask, "What's happening to the boy genius?" She continues,
Outside of fantasy fiction, he seems to be a shrinking breed. New York's gifted-and-talented schools are overstocked with girls, a recent Times study found. In some gifted classrooms, three-fifths of the students are female. Yes, we know girls are smart and dutiful and hardworking, but this phenomenon confounds what's long been considered the natural order. Could it really be that boys are now the struggling class, in need of help or affirmative action?
Rosin may be aiming for parody here (and she does take a shot at Christina Hoff Sommers, author of The War Against Boys: How Misguided Feminism Is Harming Our Young Men), but her language is pretty telling. Fewer boys in gifted programs means a reversal of the natural order, in order in which the "boy genius" outperforms the "dutiful and hardworking" girl. The conventional wisdom that Rosin's echoing (though not, probably, endorsing) is that the natural gifts of boys are being eclipsed by girls' less laudable skills: good behavior and hard work. It's an argument that's also been used to deride the achievements of immigrant students, and it keeps cropping up even among well-intentioned analysts.