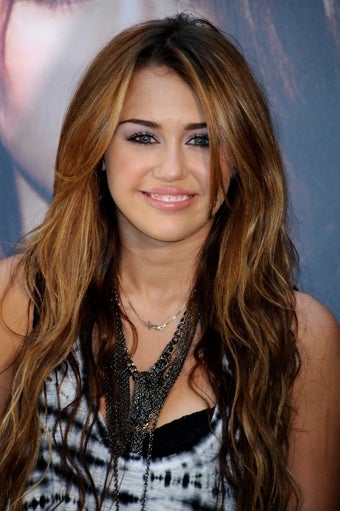 "I'm just at a certain place where I've changed a lot as a person," 17-year-old Miley Cyrus told Billboard in a recent interview, "I've grown up a lot, which everyone does." But not everyone grows up as publicly:
Cyrus has been famous since she was roughly 11-years-old, when she landed the lead on Disney's hit kids show, Hannah Montana. Since then, in a somewhat familiar Disney Girl pattern, Cyrus has branched out, releasing a few albums, starring in a few films, and now, with the release of her latest album, Can't Be Tamed, attempting to leave her super-wholesome Disney image behind in favor of a sexier, more adult persona. Cyrus' main goal as of late seems to be reminding people that Hannah Montana is over, and that she's not going to play that squeaky-clean part—on or off-screen—anymore.
Cyrus' recent foray into a more "adult" image has included skimpier stage outfits, a sexed-up music video for "Can't Be Tamed," and a few mini-scandals, including a weird pole-dance incident at last year's Kids Choice Awards, lap dancing at a wrap party, and last week's frenzy surrounding a "shocking" simulated lesbian kiss during a broadcast of Britain's Got Talent, which Cyrus herself dismissed as "ridiculous."
The more cynical among us (myself included, admittedly) have a tendency to view all of these "scandals" as a somewhat calculated means to both drum up some publicity and help separate the star from their previous public image; in the case of Disney Girls, as I wrote last year, this often involves a swing from one extreme to another, with young starlets moving from the pages of Tiger Beat to the cover of Maxim or FHM within a relatively short time period. When Miley's kiss controversy came up last week, one of the main complaints I kept seeing on the internet was how expected her behavior seemed to be, that it fit a pattern we'd already seen with Britney and Christina and Lindsay; a pattern that doesn't necessarily seem to end well.