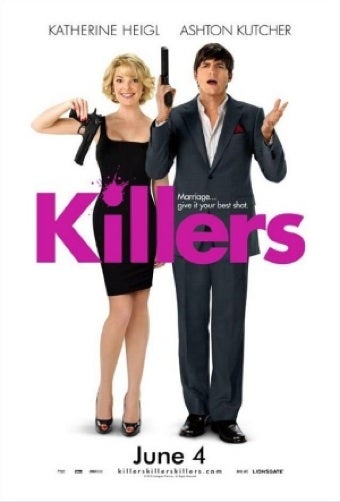 Whenever we post a trailer, preview, or round-up of reviews for a completely atrocious-looking film, someone in the comments always responds with, "Oh, it looks so, so bad. Like awful. But...I'll go see it anyway."
**Warning: There are spoilers ahead, so if you plan on "seeing it anyway," you might want to turn back now.**
In some ways, I guess, I can understand the "I'll see it anyway" mentality: sometimes, a trailer doesn't do a film justice, or reviewers seem to miss the point, and a movie that looks like a stinker on the surface turns out to be a surprising little gem. And other times, a movie looks SO bad (see: Gigli) that you feel the need to see it just to see what all the fuss is about. But Killers is neither a gem or a cult classic in the making. If anything, it has "wait for the TBS premiere" written all over it: the film wasn't even screened for critics, which is a huge red flag, and those critics have since retaliated by giving the film its current 06% freshness rating on Rotten Tomatoes. This is not a film that will gain a cult-like following, nor is it a film that your co-workers will want to gossip about come Monday. It's a film that doesn't quite know what it is, but we'll get to that in a minute.
All I knew going into this movie was that I didn't want to see it. At all. In February, I even wrote a post about the film's trailer which I titled, "Killers Trailer Proves That Katherine Heigl And Ashton Kutcher Are Intent On Destroying Love Forever." But after seeing so many "but I'm gonna see it anyway" comments during the SATC2 blitz that took place earlier this month, I decided to see Killers as an experiment of sorts, to test whether going to see a film, despite all evidence pointing to "Oh girl, don't," is really worth it. Because I love you guys that much. And also because they sell Peanut M&Ms at the theater.