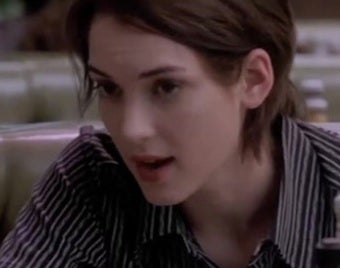 It was remarked recently that you know when you're a grown up when you no longer find Ethan Hawke's scruffy, smart-ass character in Reality Bites charming, but see him as the dirty hipster he is. I don't wanna grow up.
I want to stay in a moment when Ben Stiller was directing movies like this, and Winona Ryder hadn't lost her hold on America. Janeane Garofalo was at the peak of her awesomeness. When we didn't know Ethan Hawke could kind of be a dick.
A moment where you could make a raw yet sweet version of the romantic movie, one that's actually about figuring out what you're supposed to be doing when you're an adult and what you're willing to compromise. That's utterly realistic and yet charming, and that actually passes the Bechdel test. Where the lead character, a girl, has aspirations and dreams, and also short hair, and says things like "I don't have a lawyer. I don't have a dentist. I make $400 a week." And she's great.
In her valedictory speech at UT, Lelaina poses the question, "How can we repair all the damage we inherited?" It's the fundamental question of a movie that is already so rife with conflicted nostalgia — an early version of on our current nostalgic age, where everyone quotes television commercials and sitcoms to each other but feels crushingly disappointed already. Lelaina wonders why it can't just all work out in the last half hour like in did on The Brady Bunch. Troy reminds her that Mr. Brady died of AIDS.