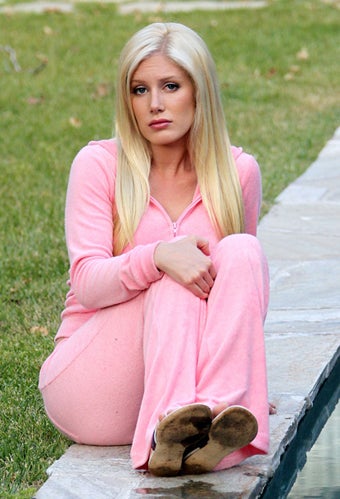 Heidi Montag has confirmed she's left her husband and already posed for "I'm sad" photos. Absent from recent episodes of The Hills— and reportedly not returning—is their split a PR stunt to promote her new reality show?
The day after the supposed separation, it was announced—through a "rep" who we cannot locate—that Heidi will begin filming a new reality show in July with Jen Bunney, a onetime recurring cast member on The Hills. The show will be about "friends, plastic surgery, and the single life." In an interview with TMZ, a giggling Bunney told the camera man that she was "not allowed" to divulge much info about Heidi's breakup because "I think they're saving a lot of the stuff that's happening in their marriage for the show." When asked if she thought that people even want to pay attention to Heidi and Spencer anymore, Bunney said, "Probably not. But that's the whole point of the show."
According to reports, Heidi and Spencer—who've been suspiciously and unceremoniously absent from the past two episodes of The Hills, and do not appear in previews for next week's show—are gone for good from the series. Reasons for the move remain unknown at this time (and MTV has not responded to our repeated requests for a comment), but we're thinking it has something to do with the couple's allegations of sexual harassment by the show's creator Adam DiVello, or the fact that Spencer was recently suspended from the show for allegedly threatening to kill one of its producers. Whatever the case, the couple hasn't been filmed for the series since mid-April, and Heidi was not invited to a cast meeting with producers regarding the finale.