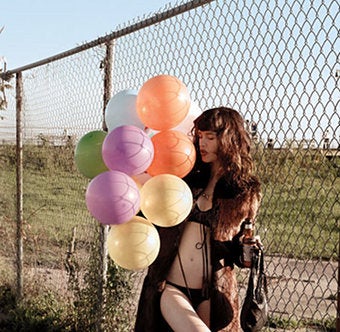 "This construction worker I've been fucking has really been keeping me up late, " says actress Paz de la Huerta, who, New York tells us ominously, will this year be "impossible not to notice." Oh, goody.
Here's how the subject and the writer, Jay Bulger, met: they were both recovering from surgery in the hospital. Bulger writes:
"You used to be handsome," she said, though we had never met. "Now you're something else." Then she unzipped her hospital gown and showed me her wound. We were a match made in Cronenberg heaven, and for three months we hid at her apartment on Gay Street, watching Melville, Hitchcock, and Almodóvar on a mattress on the floor. We separated soon after we recovered, and she very quickly met an ex-convict tattoo artist.
So much for journalistic objectivity — but to read this profile, it seems he'd have ended up with strong feelings one way or another. I know I did.
I don't know if I resent Paz de la Huerta because she's the kind of free-spirited, sexually open, life-loving woman I wish I could be, or because she's an infantile, manic-pixie narcissist with exhibitionist tendencies. Both? I wasn't sure, so after showing it to as many of my female friends as I could find and IMing a series of shocked emoticons, I asked my boyfriend to read the profile. "She's ridiculous, contrived, and desperate to shock," he said, "and...sexy." (He also said she reminded him of a certain legendary high-school girlfriend who still looms large in his memory, thanks to er uninhibited love of life, her devastating effect on men, and her romantic volatility.)
"She probably thinks other women are 'jealous' of her too, and that's why she doesn't have female friends," I replied spitefully, and baselessly. (For all I know she's surrounded by sisterhood.) By now it should become clear that the reaction that I — and all my friends — had to this profile wasn't just about its subject.
But I digress. Who, you ask, is Paz de la Huerta, exactly? Well, she's what the New York Times called a "model and muse," (who's chimed in on the Terry Richardson fracas) and an actress whom you may have seen in Indie films and will possibly watch in the upcoming HBO series Boardwalk Empire, for which she is growing a "period bush." Or, as the piece's author/ex Jay Bulger describes her, "a master of social manipulation and a very fine actor, by which I mean she excels at creating, and causing, drama." She's been a scenester in New York for a while. She's 25. She's also dated Jack Nicholson and Scott Weiland and that guy from the Virgins. Her father is a Spanish Duke. Her mother "works as an authority on women's issues in Third World countries." She grew up bohemian and wild, her childhood alternating between the Hamptons and penury. Then films, photoshoots and general It girl status followed, although she's apparently often short of cash and in the course of the piece we see her cadging food, cosmetics and free sauna treatments.