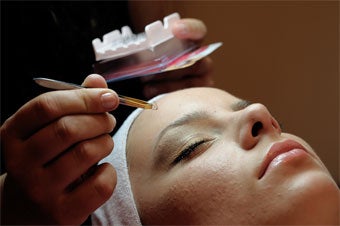 Client Nine is a tiny girl with big eyebrows. When I go out to the reception area to get her, she jumps right up when I call her name.
The woman sitting next to her says to me, "Don't worry, she's been here tons of times."
"Great," I say. It honestly takes me a minute to put it all together. "Come on back, Nine."
And then Nine turns to that woman. "Mom? You're coming, right?"
And then to the man sitting on her other side. "Dad? Do you want to come too?"
Then I realize that Nine is very, very young. Thirteen, her mother tells me. And I am going to wax her eyebrows with both of her parents watching.
First stop, Miss Stacy. Because technically speaking, the minimum age for a waxing service is 16. (I'm not actually sure if that's a Beauty U rule, or a state board rule, or a general industry standard, but I'll dig into it and report back.) But Miss Stacy says as long as a parent or guardian is present, it's okay.
At this point, I'm sort of assuming that Nine is the one wanting her eyebrows waxed, because she's read about it in magazines or her older friends are doing it, or whatever. She is not one of those 13-year-olds who looks 20. In fact, she looks maybe 11. But I always looked young too, and I get that sometimes that means you desperately want to look older, when older equals cooler.
So Nine gets comfy in the waxing chair and I take a look. Yes, she has the kind of unibrow that happens when you also have lots of dark curly hair. It's there, but not so thick you'd stop on the street or anything. Then again, it's clear this isn't her first waxing job. I explain that I'm just going to clean it up a teensy bit.
"We were also wondering," says Nine's mom. "Do you think it's time for her to start waxing her lip?"
I blink. I know there's a semi-annual media blitz about tweens getting crazy spa services (see here and also here) but this is my first up close and personal encounter with it. I've never heard the mother of a middle schooler suggest a lip waxing before.