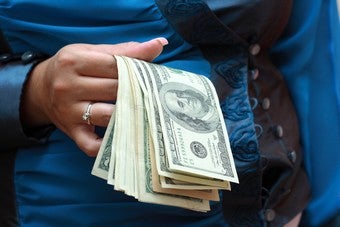 We often call for more gender equality in the economy and the workplace, but it's not always clear what that would mean. In the Times, one woman lays it out: "Only money will give women power."
The speaker is Irene Natividad, organizer of the 20th Global Summit of Women in Beijing, and she's explaining to Didi Kirsten Tatlow of the Times why she concentrates on women in the business world: "The basis for all women's empowerment is the bottom line." It's a controversial statement — but then nobody really agrees on what empowerment would mean for women in the workplace. In a McKinsey study cited by Forbes's Carol Hymowitz, a majority of women in leadership roles thought women would have to hold at least 30% of senior jobs in order "to be taken seriously and to influence decision making." But male leaders didn't think the percentage of women in those jobs mattered at all. Forbes's MP Dunleavey writes,
The so-called she-conomy isn't some fantasy movie, teeming with Amazon women in silvery body suits. It's around the corner.
Supposed signs of its approach include women making up 43% of "top wealth-holders" in the US (those worth $1.5 million or more) and accounting for $4.3 trillion of $5.9 trillion in consumer spending. But right up there with the she-conomy is the he-covery: as the economy bounces back, men are gaining jobs faster than women. Not only can it be hard to tell where women are in the fight for gender parity, it's hard to say how we'll know when we've arrived.