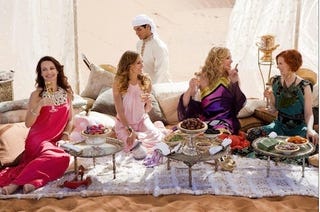 This summer's blockbusters overwhelmingly feature white actors, a stark effect even by Hollywood standards. Relatedly, another big tent movie, Sex And The City 2, is defending itself against charges of cultural insensitivity. But seriously, people. We know hijabs are hilarious.
A.O. Scott writes in The Times,
"The ugly smell of unexamined privilege hangs over this film like the smoke from cheap incense. Over cosmos in their private bar, Charlotte and Miranda commiserate about the hardships of motherhood and then raise their glasses to moms who "don't have help," by which they mean paid servants. Later the climactic crisis raises the specter either of Samantha going to jail or the friends having to fly home in coach, and it's not altogether clear which prospect they regard as more dreadful.
But what about their unexamined privilege as wealthy, white, American women giggling about camel toe jokes all over Abu Dhabi? This is, after all, a franchise that grudgingly added a black character in its first movie, and it was as an assistant. According to Dodai, who just took one for the team, Samantha is the most nakedly offensive (get it?), Charlotte is clueless and condescending but gets called on it, and Carrie gets wisdom from a zen-like brown person who is serving as her butler. True to form, Miranda has read a lot of books and muses about how men everywhere want women covered up and oppressed. Dodai has a friend who saw it and posited that the movie could be used "as a terrorist propaganda film to pump up the Taliban," as so potent a symbol of Western decadence and blithe indifference to the outside world.