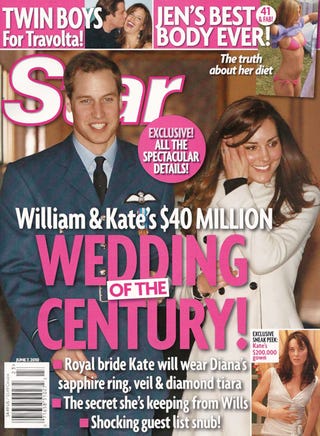 Memorial Day is right around the corner, and folks are selecting beach/plane/train reading. The editors at the celebrity weeklies seem to think we want loads of ladies in bikinis and detailed diet tips. Here's the problem:
The diet/bikini stories this week were EVEN WORSE than usual. You'll find C-List celebs and stale ideas. (Exercise paired with lean meat and salads? REVOLUTIONARY!) This week, if you want to read something good, we suggest you buy a book. And if you want to look at pictures, buy a picture book. Yes, it's true: EVERY SINGLE MAGAZINE GETS AN F.
Ahead, Margaret and I critique In Touch, Star, Us, Ok! and Life & Style. Because someone has to.
Ok!
"Boob Jobs, Botox & Lipo"
Just so you know what kind of caliber story this is, the mag interviewed Heidi Montag's plastic surgeon, Dr. Frank Ryan. He describes "trends" in plastic surgery and then there are captions about alleged procedures the stars have had. Cameron Diaz's nose job is ancient news, as are Heidi's multiple surgeries. Snooze. Moving on: At Shiloh's birthday party, there will be lots of arts and crafts — and Johnny Depp might call Shiloh in character as Captain Jack Sparrow. Lucky duck! In Robert Pattinson and Kristen Stewart news, the copy here reads: "After recent tabloid stories painted Kristen as a sullen nag who delights in torturing a lovestruck Rob, he was ready to explode." FYI: One tabloid which has reported that Kristen got pissed at Rob? Ok! Oh, and the mag notes that he is as "wildly romantic as Edward Cullen." Kendra's her ex-manager is the one trying to sell the sex tape — but in cahoots with her ex-boyfriend. But didn't we hear that Kendra's getting money for the deal? Lastly: Can you imagine Justin Bieber as a movie star? This Photoshoppy spread should help. (see image 7)
Grade: F (toxic medical waste)