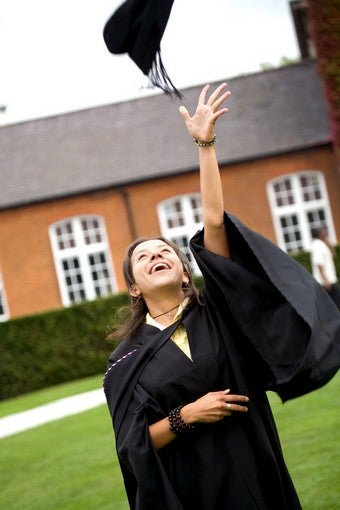 It's graduation season, which means you or someone you know may be about to enter the hard, cold, post-college world. Luckily a few relatively inexpensive implements can help ease that transition.
The traditional graduation gift is a check — or a stuffed bear wearing a mortarboard. But those wishing to make a contribution more specific than the former and more practical than the latter — or new grads with their own Target gift cards — might want to consider the following:


Hammer
Storytime: when I was still in college, my roommate and I were trying to put together a futon. We needed a hammer. We said, "gosh, if only someone would just walk by and give us a hammer." Then a man in a hard hat walked right by our door. Did he have a hammer? He did! Could we borrow it? We could! He asked that we leave it outside the door when we were finished, but he never returned to pick it up, leading us to believe he was some benevolent hammer-bringing ghost. Years later, I lost this hammer in a move, but the ghost did not return — proving that when you're a grownup, you need your own hammer. From hanging pictures to (literally) breaking the ice at parties, it is essential.
Glue
I also have a story about glue. When I was living by myself for the first time, I bought a cheap old chair that promptly broke under the weight of a very petite friend. I needed to repair it, and I had no one to help me, so I went out and bought some wood glue and clamps and did it myself. The whole process made me feel like an Independent, Effective Adult, even though the chair was basically unsalvageable and broke again two days later. Having the right glue can make you feel powerful, and of course it can help you fix all the things you break because you are young and clumsy and your living space is small and sometimes filled with drunk people. If you get both wood glue and super glue, you can stick anything back together — at least for a while.
Toolbox
For a little more money, you can combine the above and some other useful items into an even more useful item: the toolbox. It doesn't have to be huge — a hammer, some screwdrivers, a selection of nails, and some pliers will get you started. Mine has dinosaurs on it.

Hand towels
To the fresh-out-of-college person, hand towels may feel like kind of an indulgence — and they are. But isn't it nice to offer your guests the option of drying their hands on something they can be reasonably sure has never touched your butt? I think it is.