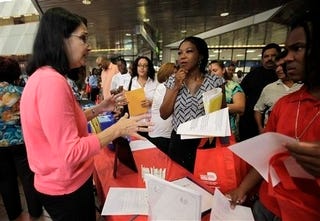 Since men make up more than half of the participants in the labor market (and make more money), they were unsurprisingly harder hit by the recession. Surprisingly, though, they're now better off during the recovery than many women.
Jocelyn Noveck of the Associated Press reports that, even as jobs were finally being added to the American economy, women continued to lose theirs.
"As job losses slowed in the final months of 2009, women continued to lose jobs as men found employment," according to the report, based on the committee's analysis of data from the Bureau of Labor Statistics, including unpublished data. Specifically, from October 2009 to March 2010, women lost 22,000 jobs while men gained 260,000, it says. It adds: "April's strong employment growth showed women gained 86,000 jobs last month, far fewer than the 204,000 jobs gained by men."
Of course, that was the intention of the original stimulus bill: to stem the massive job losses in male-dominated industries. But the problem is that by targeting some industries over others, women are now facing the fall-out.