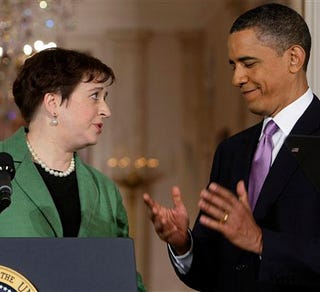 The kerfuffle over what Supreme Court nominee Elena Kagan does or does not do in her bed on her own time — and whether this will affect her ability to reason over legal issues — boils down to straight sexism.
It's sexism because the gossip, as Stephanie Mecimer succinctly points out in Mother Jones, boils down to five main things:
She wears her hair short.
She often wears pants suits (except she didn't yesterday, so take that, rumor mill!).
She doesn't publicly discuss her personal life.
She hasn't been publicly linked to any men and has no children.
She supports the end of Don't Ask Don't Tell.

In fact, add in comments about softball (notably, a serious pastime for both men and women at the nation's competitive law schools) and flannel, and such was exactly Gawker's case for Kagan's supposed lesbianism yesterday. Well, that and the poorly- and anonymously-sourced story on CBS's blog by RedState founder (and noted plagiarist) Ben Domenech that his editors pulled. Some sourcing.