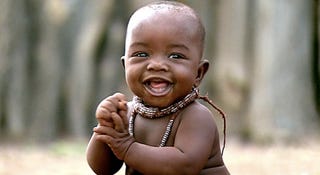 Babies is a lot like watching real infants: A strange mix of tediousness and marveling at the miracle of life. Critics warn that after an hour, "you might start to wonder why you've paid to see somebody else's home movies."
The concept behind the film, which opens today, is incredibly simple. French documentarian Thomas Balmès follows four infants through thier first year of life. The children are, Ponijao, from Namibia; Bayarjargal, from Mongolia; Mari, from Tokyo; and Hattie, from San Francisco. For 79 minutes we watch them going about the daily business of being a baby in their respective countries, from attending baby yoga in San Francisco, to trying to make sense of educational toys in Japan, to getting tethered to the family yurt in Mongolia. There's no narration in the film and there's no plot aside from the babies reaching various milestones and learning about the world around them, however different it may be.
Critics say the film is undeniably adorable — we are after all, hard-wired to find babies cute — but it may have benefited from a little more drama. One reviewer said a scene in which Mari attempts to put a stick through a toy donut is, "like watching the dawn of consciousness in two minutes," but she wanted even more of these moments. As Sadie put it earlier, "I feel drunk on infants. If that's possible. But the whole audience seems to be baby-drunk too."