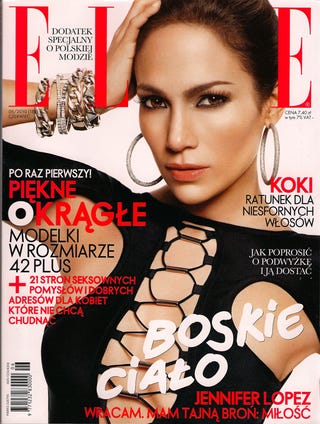 Reader P.K. emailed us to say: "I think there must be a memo floating around in fashion magazines' editor's room — everywhere June is 'size acceptance issue' month. I'm sending you scans of Polish Elle's June issue."
P.K. writes:
On the cover it reads (left side): "For the first time! Beautiful curvy models in 42 plus size + 21 pages of sexy ideas and good addresses for women who don't want to lose weight."
She continues:
There are a few editorials, one of which was already seen on Jezebel, with Tara Lynn for French Elle. And: There is Big is Trendy (lit. means Big is En Vogue) with "real women" (emphasis mine, they're successful, hard-working women, who love fashion and can afford it, which is not always the case with, you know, real women).