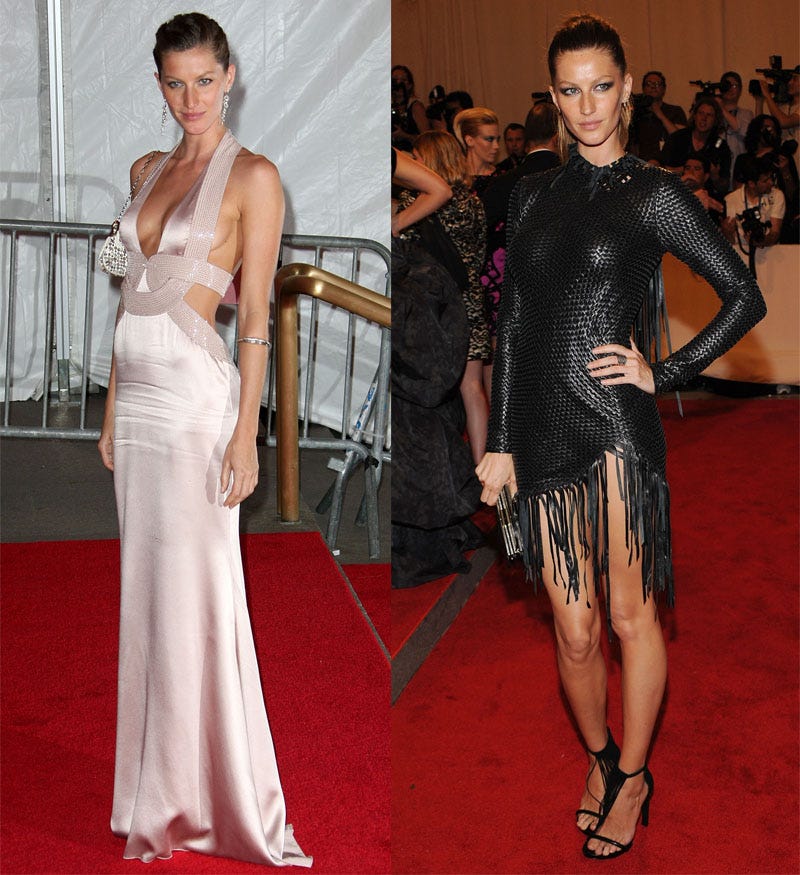 Pretty dress after pretty dress went by on the red carpet outside the Metropolitan Museum of Art last night — and it was all pretty damn unimpressive.
At left, Giselle at the ball in 2008. At right, her appearance last night. Click to enlarge.
The nice outfits were pretty in unoriginal ways, and the bad ones were generally not so much ugly as they were suffering from certain technical difficulties — mistaken placement of a bow, an error of proportions.
The palette tended heavily towards the neutral — beiges, tans, eggshells, whites, creams, greys, blacks — and what colors there were, were muted. (Christina Hendricks' breast-binding cerulean gown and Rachel Weisz's cutesy hot pink one were among the few exceptions.) Prints? Almost none to speak of, and dull when they did occur. Interesting textures? Carey Mulligan and that reliable fashion trickster Chloë Sevigny each tried lace; their mileage varied. Ralph Lauren paired too-perfectly whiskered blue jeans with his tuxedo jacket, and made himself an example of the kind of high-low look that has become utterly trite. (His wife, Ricky, looked amazing as always in a proper tux, while Alexa Chung's attempt at men's wear fell into overwrought urchin territory.)