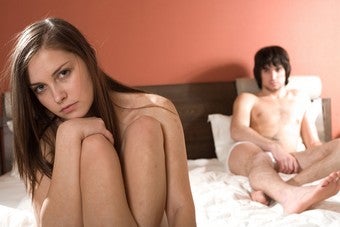 Though many women report that birth control pills lower their sex drive, they've had frustratingly little scientific support — but now a new study shows women on hormonal birth control actually are at higher risk for low libido.
Researchers at the University of Heidelberg in Germany studied 1,086 women, and found that those taking hormonal contraceptives were at higher risk of sexual dysfunction than those using non-hormonal or no birth control. Non-oral options like the ring or hormonal IUD don't appear to be a solution — these actually conferred a higher risk. Those using non-hormonal contraceptives had a lower risk than those using no protection at all, perhaps because of their reduced fears of pregnancy. Low sexual desire was the most common type of dysfunction among the women in the study, but some subjects also reported decreased lubrication, difficulty orgasming, and pain.
The results will come as no surprise to the many women who have struggled with low libido while on the Pill. In Salon, Geraldine Sealey gives voice to their plight:
I hate the pill. Hormonal contraception, which covers birth control pills and nearly every other highly effective method on the market, murders my libido. I say that with as much certainty as I can, given the murky, multi-variate thing that is the human sex drive. I've experimented with several pills, hoping that any slight variation in hormonal ingredients would yield a contraceptive that worked without neutering me. Each doused my interest in sex as completely as the other. Although a libido-destroying pill does wonders to lower your pregnancy risk, it's also done a number on my relationships, self-esteem and emotional well-being.
Sealey's story is common — if we haven't experienced it ourselves, most of us know women for whom contraceptive hormones seriously impact desire. But doctors — and the cheery ads for "period control" on television — often fail to discuss this problem. While the Pill was apparently revolutionary for including printed inserts that explained side effects directly to patients, these inserts don't always mention sexual issues. Perhaps this is because they haven't received as much studies as other, more life-threatening problems. But while it's obviously important to protect women from blood clots and cancers, it would also be nice if a drug that enabled women to have sex without pregnancy didn't also kill their desire to do so. And now that a study has confirmed this effect, maybe doctors and drug companies alike will actually take notice, rather than dismissing women's experiences as mere anecdotal evidence.