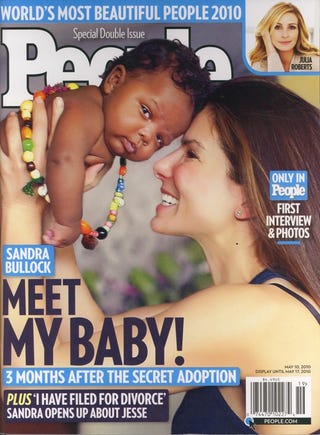 Today Sandra Bullock and People magazine achieved the impossible: Revealing a mind-blowing celebrity secret we'd heard nary a peep about from "insiders." We've met Louis, but the story has raised new questions about racism, Jesse James, and the fame game.
To get the most trivial question out of the way,
1) What's up with that necklace?
Once you get over the initial shock of seeing Sandra smiling with a baby on the cover (as opposed to bawling her eyes out and being "so lonely"), the term "choking hazard" quickly springs to mind. Are those beads big enough for a three month old to play with? Were they placed in the photo by a People photographer to underscore that he's "ethnic"? Sandra explains in a caption:
Sunny made that necklace for him... to represent all the kids.

Toys R Us does sell some similar Baby Teeth Beads made of plastic, and he's playing with the beads while Sandra and a photographer are staring at him, so it seems he's not in danger. But it's still weird that in a story this controlled, no one thought, "hey, maybe we shouldn't run photos of the baby with a cord around his neck in three separate photos."
2) Why did she decide to adopt an African-American baby?
Sandra only refers to Louis' race indirectly in People saying:
I want him to know no limits on where he can go. I want him to experience all culture, nationalities, countries and people like I did. I want his mind to be open and free. We were raised that we are all the same. No one greater, smarter, more powerful. We are all equal. I would love for Louis to know that . He has a big, beautiful, diverse family. As long as he know he is loved and protected and given the opportunity to touch and see everything, then I will have done my job as a mama.
Post-sex scandal Sandra only broke her silence to deny that she and Jesse made a sex tape, but never bothered to declare that she does not share her husband's alleged views on white supremacy. Now we know why — if there are accusations of racism flying around, having an African-American child is a PR-friendly rebuttal.
Or is it? By that logic Jesse James is no racist either. Whether the rumors from former employees that he's made derogatory comments about minorities are true or not, there's a picture of the dude dressed up as Hitler. Unless the entire story is a fabrication (see #5), that means at the very least a man who didn't understand taking that picture was not OK also hoped to parent an African-American child. One good act doesn't mean a person can't hold reprehensible views against a group as a whole. We know his estranged wife adopted a black child, and he had a really funny way of expressing his interest World War II memorabilia. Other than that there's still no way to know what's in his heart.
3) But did Sandra know about the Nazi stuff?
According to her, no. She tells People:
The photo shocked me and made me sad. This is not the man I married. This was stupid, this was ignorant. racism, anti-Semitism, sexism, homophobia, anything Nazi and a boatload of other things have no place in my life. And the man I married felt the same. This I hope Jesse will address one day, but that is not the world I live in or have ever lived in and have any tolerance for.
Just to remove any lingering doubts, Sandra also mentions that Louis had a bris:
A friend of ours helped arrange for a bris [Jewish circumcision ceremony] at the house, because we couldn't go [to a hospital for the procedure]. The mohel [a person trained in the practice] came to us. You have never seen adults more panicked about what was about to happen to their son, but the celebration and the amount of love we felt and the pride in the little man whom we love so, so much became the greatest moment I have ever had in my life.
Technically, the guy in that Nazi photo is the guy she married, but we know what she means. She's publicly disavowed her connection to any hate group Jesse may be affiliated with. If we learn anything worse about him (what is there?) her official position is that she had no idea, and maybe she really didn't know. Still, the question remains: