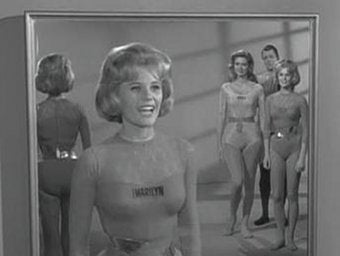 My boyfriend called me from L.A. this morning and said he'd just heard a radio ad for vaginal rejuvenation — just in time for Mother's Day!
Portrait of a young lady in love - with herself. Improbable? Perhaps. But in an age of plastic surgery, body building and an infinity of cosmetics, let us hesitate to say impossible. These and other strange blessings may be waiting in the future - which after all, is the Twilight Zone.
When Hortense wrote this weekend about Hollywood's "plastic-surgery backlash," it prompted one industry-insider commenter to refer to a famous Twilight Zone episode, "Number 12 Looks Just Like You." And she hadn't even heard about the freaky Plastic Surgery convention, yet! In case you've never seen the classic episode about a Gattica-like society of identical, surgically-enhanced beauties, I won't spoil the ending for you. Suffice it to say, there's a lot of peer pressure. And people lose all perspective. And beauty is defined very narrowly.And it's scary. In other words, it's almost too perfect to serve as an effective analogy, because the irony would be pretty much lost on contemporary Hollywood.