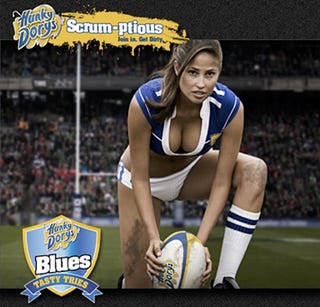 Hunky Dorys, a brand of Irish potato chips, is the official sponsor of the all-male Irish rugby team. So naturally, their new ad campaign features women with their breasts and butts on display and the slogan, "Join In. Get Dirty."
Click to enlarge.

The Hunky Dorys website encourages users to "get behind your team" — either the fictitious "Reds" with the slogan "Haka Hunky," or the "Blues" who are "Tasty Tries." Rugby must be even harder when you've got a giant wedgie and your breasts keep popping out of your shirt!
There are wallpapers and videos for each scantily-clad woman, and their profiles contain quotes with idiotic double entendres, such as:
My advice on the killer pass? It's all timing — too soon and you ruin a great scoring opportunity.
Is it really about the taking part? No-one remembers who comes second. That's what the Reds are all about, making sure we stand tall at the end of 80 minutes.
If the rules of advertising dictate that someone has to be objectified, wouldn't it have made more sense to focus on the men? They're actually on the team, the name of the product is HUNKY, and judging from these photos of players Tommy Bowe and David Wallace frolicking in the ocean, at least a few of them aren't hideous.



But why would rugby fans want to look at photos of the players they know and love while eating potato chips? Here's a tip for the folks at Hunky Dorys: There's no reason to pay the Irish rugby team for sponsorship rights if you just want to run ads featuring anonymous women in skimpy outfits.