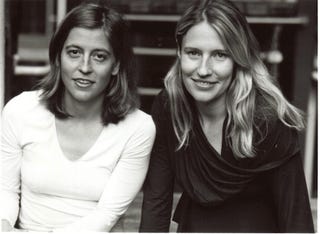 "I was pretty young when my Barbies started having abortions," said writer Jennifer Baumgardner last night. The event was called "Young Women, Feminism And The Future." I wished for a little bit more of the future stuff.
Baumgardner was explaining something she and her Manifesta co-author Amy Richards had talked about a lot, in the ten years since the book was published and before: they had grown up with "feminism in the water" and had come up with their own version of the women's movement, which was branded as the Third Wave.
"One thing that hasn't changed since Manifesta is intergenerational tension," said Amy. And there's plenty of evidence of that — witness the debate this week about women's involvement in reproductive rights issues. The twist is that listening to them last night, I felt something akin to the mild alienation they must have felt about an earlier generation of women's rights activists, even as their version of feminism had inspired me as a teenager and young adult. That was because it seemed more diverse, more aware, more welcoming, and more attuned to the culture.