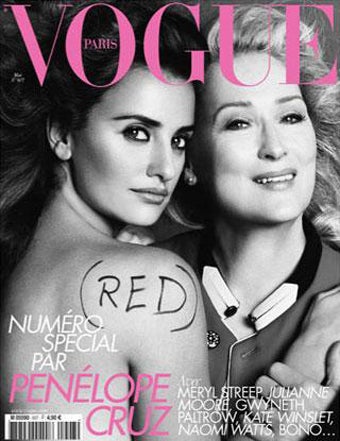 The May issue of Paris Vogue features Penelope Cruz as guest editor. Inside, the shoot starring noted plus-size model Crystal Renn includes one partially nude image, in which her pubes are the focus. [NSFW]
The May issue (for which there are three different covers; you can see the others here) rounds out a long procession of magazines embracing curvy or "plus size" women… but asking them to remove their clothes.
We've seen Christina Hendricks in a bustier for New York Magazine; Dirty Martini in lingerie for V Magazine; Tara Lynn, Candice Huffine, Marquita Pring, Michelle Olson, and Kasia Pilewicz clad in swimwear and leotards for V Magazine; Tara Lynn nude in French Elle; a pyramid of naked ladies shot for Glamour, and the naked "woman on page 194" of Glamour. Just for starters.