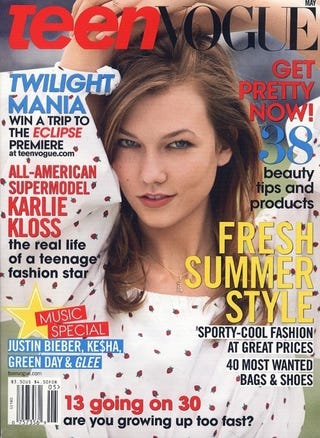 Adorable, impossibly leggy seventeen-year-old Karlie Kloss is Teen Vogue's May cover girl, and the accompanying story does its best to convince you that nothing is better than being an "All-American" teen supermodel.
Jane Keltner's piece focuses on how, despite logging 150,000 airline miles in the last year, working for Dior, Marc Jacobs, Karl Lagerfeld and Jason Wu and being the most photographed model in American Vogue in 2009, Karlie is a "down-to-earth, unassuming Midwesterner."
For instance: Karlie spent the first day of New York Fashion Week making snow angels in Central Park. Karlie baked peanut butter cookies when she had a fitting with Alexander Wang; Karlie is reading The Great Gatsby and does her homework (backstage at fashion shows).
We're sure this is all true; she seems to have a lovely personality and a strong support network. But while it's great that Karlie herself stays grounded, there's no mention of the pitfalls of modeling at a young age. The article doesn't touch on dressing or acting older than your age; the psychological impact of being paid for looking a certain way, the possibilities of being around drugs or alcohol, or the pressure to be thin (though the piece we're reading online is an edited version). Compare Karlie's charmed life to that of Gerren Taylor, the model featured in America The Beautiful, who walked runways for Tommy Hilfiger, Marc Jacobs and Richard Tyler when she was 13 but was told she needed to be "more skinny" by Parisian casting agents and had a meltdown before she was 15.